---
---
WHAT WE'LL DO :

       This 3h30 hour experience is a walking tour, sketchbook under the arm, on the hill of Montmartre.
         On the program all the inescapable of the hill but also (and especially in fact) a whole lot of small passages, places and landscapes to discover and draw. I shall tell you the history of theses place with pictures !
      I provide all the materials: drawing book, promarkers, pencils ... Come in your pockets and leave with your sketchbook filled as a souvenir of Paris. No experience required, beginners, intermediate, advanced and even ... enthusiasts accepted. This experience that I propose to you is for those who would like to draw, to have fun and to progress by discovering a Paris that you will never find in postcard. Not suitable for children under 7 years.
---
-pencils
-pen
-promarkers
-folding chair
-A little surprise at the end !
---
         You may not have known that Renoir's house was here? The Place du Bateau-Lavoir deserves a pause to fill your notebook. Yes, "Moulin de la Galette" is still there, petanque players, Wallace fountains, vines, artists too!
---
AU PROGRAMME :
        Cette expérience de 3h30 est une promenade, carnet de croquis sous le bras, sur la butte de Montmartre.
        Au programme tous les incontournables de la butte mais aussi (et surtout en fait) tout un tas de petits passages, lieux, paysages à découvrir et dessiner dont je vous conterai l'histoire (et j'en ai plein !).
        Je fournis tout le matériel (voir liste ci-dessous). Venez les mains dans les poches et repartez avec votre carnet de croquis remplis comme souvenir de Paris. Aucune expérience nécessaire, niveaux débutants, intermédiaires, avancés et même… passionnés acceptés. Cette expérience que je vous propose est pour ceux qui voudraient dessiner, s'amuser et progresser en découvrant un Paris que vous ne trouverez jamais en carte postale. Ne convient pas aux moins de 7 ans.
---
-Carnet de croquis
-crayons
-feutres
-promarkers
-chaise pliante
-Une petite surprise à la fin !
---
       Vous ne saviez peut-être pas que la Maison de Renoir était dans le coin ? La place du Bateau-Lavoir mériterait bien que nous y fassions une pause pour remplir votre carnet. Oui, le moulin de la galette est toujours là, les joueurs de pétanques, les fontaines Wallace, les vignes, les artistes aussi !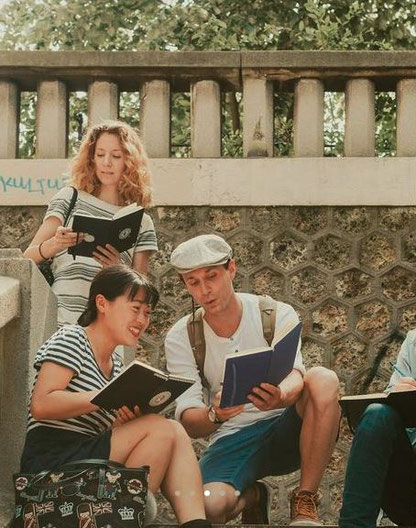 With Airbnb: 55 €
With me:       50 €
---
If you book with Airbnb price is more expensive because the site takes a commission.
Here is the link to book with Airbnb:

www.airbnbbeanartistinmonmartre.com
If you book directly by me, contact me on my e-mail:
Avec Airbnb : 55 €
Avec moi :      50 €
---
Si vous réservez avec Airbnb le prix est plus cher car le site prend une commission.
Voici le lien pour réserver avec Airbnb :
www.airbnbbeanartistinmonmartre.com
Si vous réservez directement par moi, contactez-moi par e-mail :